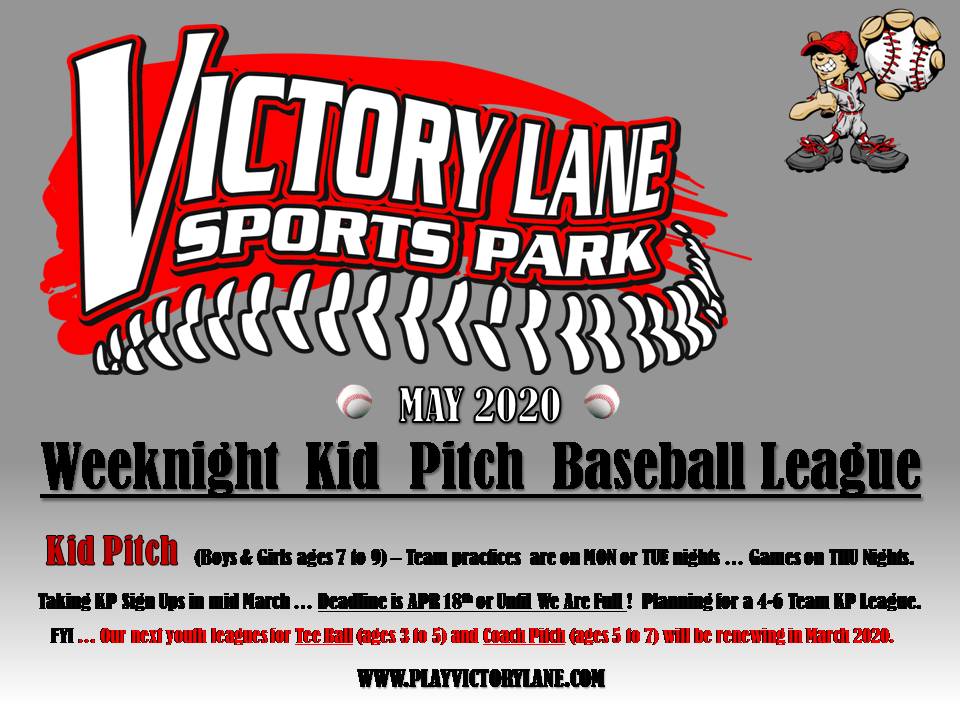 What:
This KP session is an 8 week / 8 game league playing on Week nights. Week night practices are scheduled to start Early Sept. Practices and games will be held during the week Mon, Tue or Thurs.
Kid Pitch is an 8 week / 8 game league playing on week nights here at VL. First games playing will be early Oct. We are expecting 4 to 6 teams for this first KP session in 2020. Practices and games will be held during the week on MON, TUE or THU nights. If we end up with 6 league teams we would have floating practice days and game days each week over MON, TUE & THU nights in order to fit in all of the teams practice and game nights. If you have questions please contact us at baseball@playvictorylane.com.

Where:
Victory Lane Sports Park field 6. click for directions
When:
Week day evening games
Price:
$95 per player includes a team hat & shirt
All KP players should have their own batting helmet and bat (Little League approved). The Kid Pitch league will be played on a park ball field (Field 6) which is next to the parking lot on the south side by Field 7. There will be an open gate for this league to use to get on that ball field. There will not be a gate charge for KP practices and games however all park policies will apply (no coolers or ice chests, no outside food & drink etc.). The park gate fee will apply to enter the park to watch non-kid pitch activities.
Ages:
7-9 (age as of the first league game)

You can sign up your child or a group of children to be placed on a team. Groups can also sign up to build one of the league teams.
This league will consist of a maximum of 8 teams with 12 to 15 players. We also need some parents to coach the teams.

For further information, please contact us at 623-581-6000 or EMAIL


** Payment is due prior to being placed on a roster.

** Modified Victory Lane Kid Pitch rules and Victory Lane Policies available below.


| | | |
| --- | --- | --- |
| | | Click to download Kid Pitch Rules and Victory Lane Policies |